Heb jij horeca-ervaring en ben je op zoek naar een leuke baan?

Meat & Greek at radio show Hellas Pindakaas
Meat & Greek on Hellas Pindakaas, the best pita gyros in Amsterdam. Listen on demand to our latest Hellas Pindakaas where we welcome in the studio the owners of the hippest new food corner in Amsterdam.
.
Come meet and greet with Meat & Greek's Mano Paraschos and Sarah Deneux. They talked to us about their passion, their philosophy and their future plans. And they revealed to us all their secrets about reinventing pita gyros for the new millennium. Hellas Pindakaas proudly presents Meat & Greek, it's fifth and most delicious sponsor!

Listen on demand via this link
To Meat & Greek στο Hellas Pindakaas! - Ακούστε on demand.
.
Το Hellas Pindakaas συναντά το πιο νόστιμο στέκι του Άμστερνταμ! Ελάτε να γνωρίσουμε την ομάδα που κρύβεται πίσω από το Meat & Greek, τον πέμπτο και πιο εύγευστο σπόνσορά μας. Ο Μάνος Παράσχος και η Sarah Deneux πέρασαν το κατώφλι της εκπομπής και μας μίλησαν για τη γνωριμία τους, για την πορεία τους ως τώρα, για τον ερχομό τους από την Γερμανία στην Ολλανδία, καθώς και για την επιχείρηση που άνοιξαν, για το μενού του Meat & Greek και για όλα τα μυστικά του πιό μοντέρνου και διαφορετικού γυράδικου που έχετε δει ποτέ. Η παράδοση και το μέλλον του γύρου τυλιγμένα σε πίτα, στο κέντρο του Άμστερνταμ. Θα τους βρείτε στην Utrechtsestraat 113.

Ακούστε την εκπομπή on demand από το παρακάτω λινκ
Wij houden van Grieks eten!...
Maar verwacht bij ons geen ingewikkelde menukaart of een Zeus op zuilen.

Wel kun je verwachten dat WIJ ons in de enige echte Griekse klassieker "Gyros" hebben gespecialiseerd. Meat&Greek staat voor dagverse, huisgemaakte producten. Puur op kwaliteit uitgekozen leveranciers, vlees of vegetarisch, brood van een Griekse ambachtelijke bakker uit de regio.
It´s not just MEAT….
We love Greek Food!...
But don't expect a menu with endless variations or Zeus on columns.
What you can expect is, that WE are specialized in the one and only traditional Greek Gyros. Meat&Greek stands for homemade products fresh made on daily bases. Selected suppliers, local fresh ingredients from the highest quality, meat or vegetarian and tasty bread from our Greek artisan baker.
It´s not just MEAT….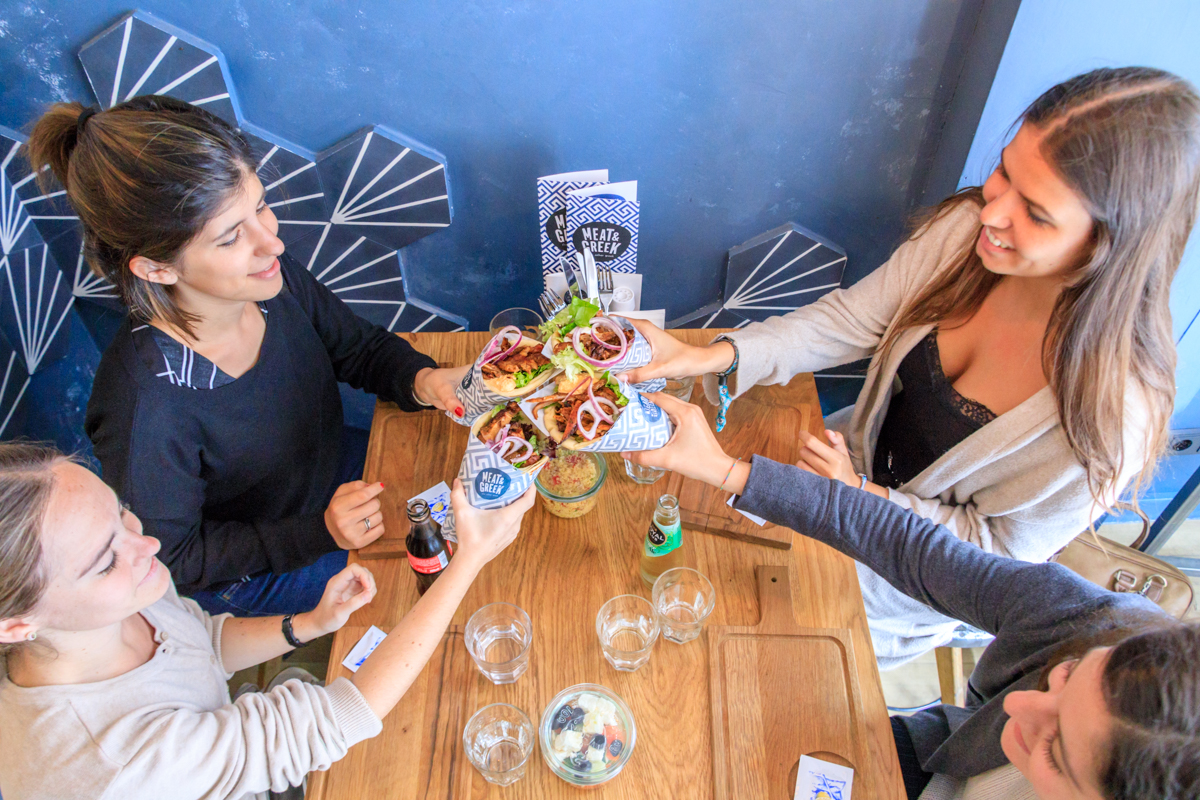 maandag
dinsdag
woensdag
donderdag
vrijdag
zaterdag
zondag
12:00 tot 22:00
12:00 tot 22:00
12:00 tot 22:00
12:00 tot 22:00
12:00 tot 22:00
12:00 tot 22:00
12:00 tot 22:00
Reservations:

Meat&Greek Utrechtsestraat:We hebben een beperkt aantal tafels, daarom nemen we geen reserveringen aan, je kan bij ons gewoon binnen lopen!
Meat&Greek Utrechtsestraat:We have a few tables in our place, so we don't take reservations, please just walk in.
Meat&Greek Haarlemmerstraat: 31(0)20-7792973 or E+ Mail us
or ⬇︎
De lekkerste PIta van 020 - Unanieme Winnaar!
Bij "Plezier en Passie van RTLXL
Deliveroo collected the most popular dishes from 2018 worldwide and bundled them into a top 100.
#47 Gyros from Meat&Greek!!!!
At the premiere of Mamma Mia! Here We Go Again at Pathé we proudly serve some snacks during the party 🙂
Ten years after the worldwide success of Mamma Mia! The Movie we invite you to return to the magical Greek island of Kalokairi in a whole new musical based on the songs of ABBA.